David Hawkins – Real Estate Broker (IL/MO)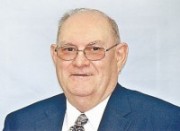 Contact David an experienced Real Estate Broker in Quincy, IL area
Family and Activities:
Married, two sons, 5 grandchildren, great grandson, and two step grandchildren.
Attend church at the Trinity United Church of Christ in Quincy, IL where he is a trustee.
Past Treasurer of the Lewistown Senior Housing Board.
Member of the Colony Freemasons and the LaBelle Eastern Star.
My wife and I are representatives from the local square dance club to the northeast district of Missouri.
My wife and I hold the position of treasure of the State of Illinois Square Dance Board.
Education:
Graduated from Bogard High School, Bogard Missouri May 1957.
Graduated from the University of Missouri in May 1965 with a BS in Agricultural Economics.
Several training courses while employed with Farmers Home Administration.
Continuing Education in the field of real estate.
Work History:
Born and reared on a general row crop-livestock farm in Carroll County Mo. Farmed on my own part time from 1959 through 1986.
In the early 1960's worked in mobile home factory, a mobile motel factory, and as a hired hand on a 1,000+-acre farm.
From February 1966 until retirement October 1994 was employed with the Farmers Home Administration, an agency of the USDA, making supervised loans to farmer and homeowners in the rural areas.
November 1994 through October 1995 was a loan officer for the United State Bank at Lewistown and Ewing Missouri.
January 1996 through present as a realtor in Missouri and Illinois. Listing and selling homes, farms and commercial properties.
Office: 217-228-3100
Cell: 217-430-5081
Email: [email protected]